Ich kenne Yi schon längere Zeit und war von ihrem fotografischen Talent schon immer angetan. Sie unternimmt kleine Reisen in ihrem Heimatland und macht dabei Unmengen von Fotos. Die gute Qualität ihrer Fotos hat mich überzeugt, einige davon ins Netz zu stellen.
Yi wurde am 08.11.1977 in China geboren und studiert Pharmazie in Nanjing. Derzeitig macht sie ein Praktikum in Shanghai. Ich wünsche ihr viel Erfolg.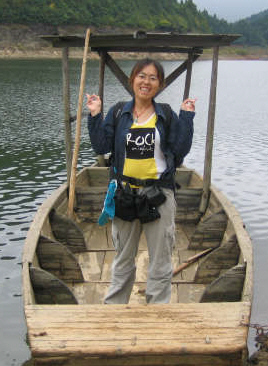 I know Yi since a long time and was always convinced of her talent for photography. She makes small travels within China and takes also uncountable pictures of the visited areas. The good quality of her pictures let me fill up several pages of my homepage with them.
Yi was born in China on November 11, 1977. She studies pharmacy in Nanjing and makes her practical studies in Shanghai at the moment. I wish her huge success.